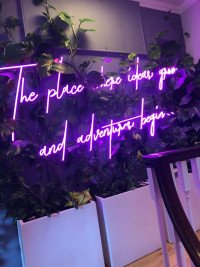 Today, we had our first real-life meeting at our new home in Blake House.
It felt great to have the whole team meet face to (socially distanced) face again. We discussed how privileged we are to be able to do our jobs from home, and how there are definite perks to be found. But we also had to admit, we really miss being together!
Whilst our regular Google Hangouts are perfectly serviceable, they're just not the same as our real-life, friendly, chatty (often a bit too chatty), frequently off-topic company meetings.
This was also our first chance to see our new premises in the flesh (and it is seriously stylish by the way) and take advantage of our new prime position in the heart of York and its array of excellent take away lunch options.
We hope to find more opportunities to work together in person over the coming weeks and months. In the meantime, regular check-ins like this do us the world of good.