The year everything changed for live events
Feb 21
A look back at the brightfive Event Department's 2020: where we struggled, what we've achieved, and what we have planned next.
2020 wasn't our best year. You can imagine why and we don't need another blog about that.
But we do want to talk about 2020 and what happened to us. Because, brightfive has been in business for 17 years, during which time - of course - we have changed and grown in a thousand different ways. But never have we changed and grown so swiftly and profoundly as we have in this single year.
More than 50% of our business is related to live event production - one of the industries earliest and hardest hit, and which continues to remain largely shut down. There were times in the early days of the UK outbreak, when we weren't quite sure how we might continue to trade six, 12 or 18 months in the future.
But we adapted, and it's this adaptation that we want to talk about. Looking back at the year, we can feel both privileged and proud of how we've met the challenges thrown our way. We know everyone is rightfully sick to death of the word 'pivot' but… we're going to talk about how we've pivoted.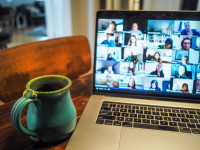 January & February: Calm before the stor
m
2020 got off to a strong start (which was very lucky, seeing what was about to happen!). Our Events team hit the ground running with nine events in production in the first two months of the year.
What about Covid? Whilst all our friends at the pub didn't think there was anything to worry about, the events industry was beginning to buzz with mutterings about potential cancellations, rescheduling, halts to overseas travel. For now though, it was just business as usual.
March: Everything changes
The month started smoothly enough, with two large-scale live events going live and plenty of digital projects to keep the whole team busy.
By mid-March things were changing by the day. As the Government issued a statement advising against non-essential travel and contact with others, several high profile events were axed, including Glastonbury's 50th anniversary festival. This is reflected across the industry, with events of all shapes and sizes put on hold or cancelled.
As schools, restaurants and cafes were ordered to close, we decided to leave the office in favour of homeworking. We closed the doors on 21st March, hopeful that we'd all be back in a couple of months.
A much needed silver lining came in the form of the news that, thanks to the busy start to the year, we had just completed the most profitable quarter in the business's history. This proved to be instrumental in the coming months.
April - May: The first lockdown
With no new work coming in, Katie and Simon (the brightfive Directors) made the difficult decision to furlough most of the rest of the team. They continued to manage ongoing projects and look for new opportunities, whilst homeschooling their two children. The whole team however, continued to keep-in-touch virtual meet-ups (mostly in an attempt to keep ourselves - relatively - sane!)
Everything was feeling rather doom and gloom, as infection levels continued to rise and the national lockdown was extended. However, there were some positives, too.
First, the furlough scheme was extended through June, providing a lifeline to businesses like ours. Even better, the first new opportunities began to appear, as businesses started to adapt to 'the new normal' and were ready to commission new projects. We helped a long-term client quickly pivot their face-to-face training business online with video training modules. This was an opportunity to apply our existing skills in new ways. We also supported our clients, Odeon Group, with the rollout of safety measures training to sites and teams.
June-September: Beginnings and endings
As infection rates decreased and restrictions began to ease, June saw our first in-person meeting since we left our office back in March. We met (outdoors and six feet apart), enjoying one anothers' company after months of Google Hangouts.
In July, we decided that after almost four months away, the time had come to say goodbye to our office at York Eco Business Centre for good. After 13 years as tenants, this really felt like the end of an era.
In happier news, we welcomed our team back from full-time furlough (although we continued utilising the flexible-furlough system). All the team were now working at home, with the plan to work from our new home at Blake House in York, as soon as possible.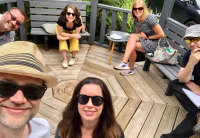 August brought more new beginnings as we began production on our first hybrid live event. There was a definite feeling of 'starting a new school' around this first virtual project - but as old hands at events we know the only way to beat the fear and minimise the risks in a live environment is to practice, practice, practice. We worked hard to learn everything we could about the platform and then trained and rehearsed like crazy to prepare for the event. Two (incredibly stressful) days later, and the Summit had been a huge success. We were thrilled and proud to have successfully completed our first virtual event for a very happy client.
October: Pivoting
Our Events team continued to add new strings to their bows, undertaking training in Teams Live Events virtual event software before our second remote event went live in October. Over two days, our team of eight Producers managed 16 live sessions, which were attended by delegates from around the EMEIA region - all led by Katie. With over 60 days of work involved, this was a huge undertaking for our team and we were delighted that this large-scale event was a great success for our client.
We then rapidly switched our training to Intrado/Cvent platform for our next virtual event. This successful transatlantic one-day event consisted of six sessions, which our team of six Producers expertly supported.
November - December: Events, events, events.
We started with a small two-day meeting in Latin America, using the Teams Live Events platform. Although this was quite a small audience, it was a very busy show - with 20+ live presenters, pre-recorded presentations, video, Q&A and panel discussions. Katie loved working with an extremely focused client team on this successful project.
We then started production on content for our first studio-based, virtual live event. This conference combined 20 contributors over five MS Teams calls, with live presenters from the studio, which were shared with the 500-strong audience via Teams Live Events. Getting back into a (Covid-safe) live environment and with real crew was really special and felt like going home for Si.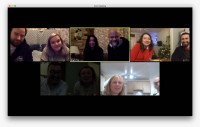 Concurrently, we were diving into Zoom Webinar training for our next project. As this event covered the Asia Pacific region, it involved a lot of 4am meetings and rehearsals, and show days which started at 1am for our team of nine Producers. Our final event of the year went brilliantly, and we were chuffed to get this lovely feedback:
"Thank you for all your help! For leading, organising, supporting, adapting and finding solutions. I really can't imagine doing not only virtual, but also onsite or hybrid projects without your team next year!"
After all this hard work, we rounded off the year with a much more relaxed virtual event: our Zoom Christmas party.
2021: Where are we now.... and what next?
There's no knowing what this year will bring - we are still living through uncertain, precarious times. But we can be thankful for where we currently find ourselves; with our same old team, presently all safe and well; new work in the pipeline; and with new skills, services and opportunities to help us navigate whatever comes next.
We know that - so far (touch wood) - we've fared very well. The pandemic has been devastating for many businesses, especially those in the live events industry. We don't want to get complacent, and we certainly don't want to take any of the good fortune that's come our way for granted.
We also want to pay it forward. We'll be bringing more events professionals onboard and training more people in our industry to deliver virtual events.
So, whilst there's still plenty to be nervous about, we're celebrating all the reasons we have to be optimistic and moving on in the only direction we can - onward and upward.
Can we help?
Find out how we can help support your next virtual event. Take a look at our virtual event support page, give us a ring on 01904 691 040 or email info@brightfive.com.