Happy birthday to us!

October marks 18 years since brightfive was founded, all the way back in 2003.

If brightfive were a person, that would mean they could legally:
Legally buy alcohol in a pub (woo hoo!)
Drive a bus
Ride a motorbike above 125cc
Get married or enter into a Civil Partnership, without parental consent
Buy fireworks
Vote in an election and stand for election as an MP, local councillor or mayor
Be tried as an adult in court
Register as an organ donor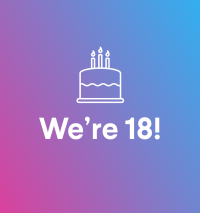 So, now we're officially of age, we'll certainly be having a drink or two. A massive thank you to all our clients, colleagues and partners for their support over the past two decades. Hip, hip, hooray!